Epic Staffing Group Bestowed Top Honors for Women in Leadership
Home >> News >> Epic Staffing Group >> Epic Staffing Group Bestowed Top Honors for Women in Leadership
Posted on December 07 , 2023 By TPO Admin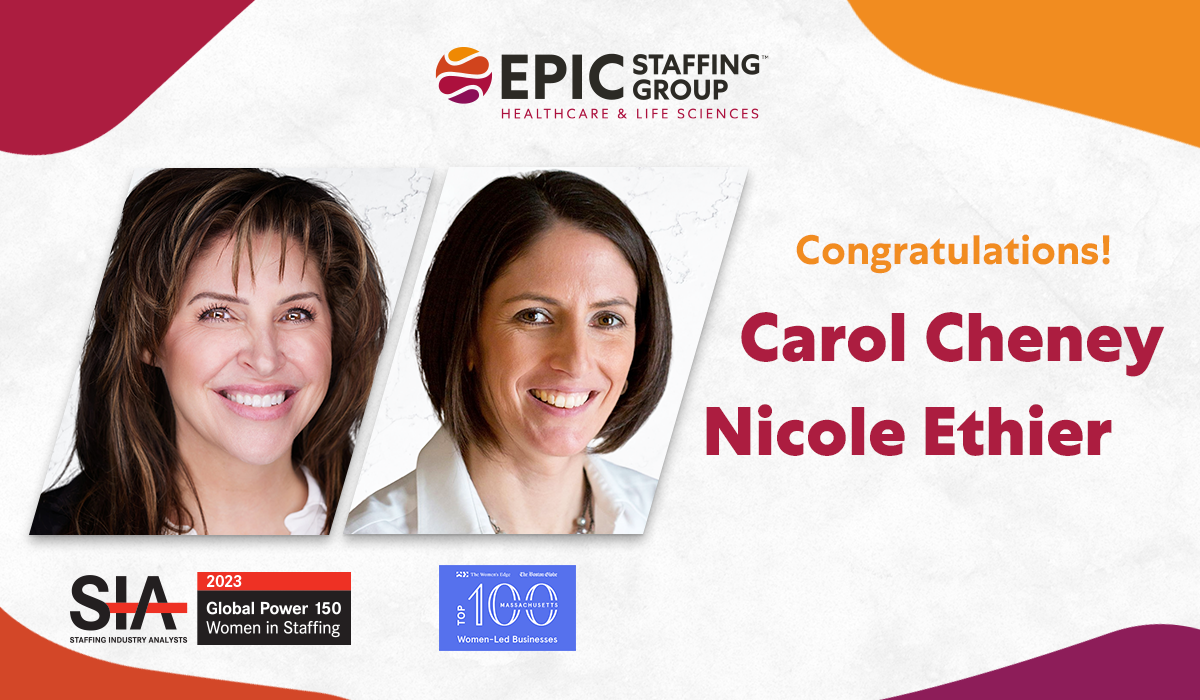 November marks a momentous occasion for Epic Staffing Group as two of its leaders received recognition for their respective contributions to their companies and industries. This month, PharmaLogics Recruiting and Orbis Clinical's very own president, Nicole Ethier, was included in the 2023 installment of the Top 100 Women-Led Businesses in Massachusetts. Subsequently, Epic Special Education Staffing's president, Carol Cheney, also received the Staffing Industry Analysts (SIA) recognition on the 2023 Global Power 150 – Women in Staffing.
PharmaLogics Recruiting and Orbis Clinical Included in the Top 100 Women-Led Businesses in MA
The Top 100 Women-Led Businesses in Massachusetts is an annual list created by the nonprofit organization, The Women's Edge, as a way to support and celebrate female business leaders. This is the award's 23rd year and the 11th year with Globe Magazine as a partner, publishing the list in its Women & Power issue.
In compiling the list, The Women's Edge examined many factors, such as revenue, number of full-time employees in the state, workplace and management diversity, and innovation. This year, the list featured institutions belonging to a wide range of industries – from biotech and healthcare companies to academic institutions, law firms, and transportation and construction businesses.
Nicole Ethier: Cultivating a Culture of Women Empowerment in Life Science Staffing
As women-led businesses, PharmaLogics Recruiting and Orbis Clinical are proud to have roughly 75 percent of their workforce comprised of women, with almost 27 percent being women of color. Ethier is also not the only woman in a leadership role, as 44 percent of the company's upper management are female.
In support of the success and advancement of women employees, Ethier leads by example. She believes in the importance of providing role models for aspiring female leaders and investing in their growth, enabling them to enhance their skill sets. PharmaLogics Recruiting and Orbis Clinical demonstrate a commitment to diversity, ensuring that development opportunities are available to all employees, irrespective of their gender or background.
"By nurturing this culture, we create an environment that empowers all employees to thrive and contribute to our collective success," said Ethier. "I strive to create an environment of inclusiveness, trust, and celebrating each other's achievements."
Epic Special Education Staffing President Recognized in 2023 Global Power 150 – Women in Staffing
The Global Power 150 is a list that recognizes the most influential women in staffing. It is compiled by Staffing Industry Analysts (SIA), a global research and advisory firm focused on staffing and workforce solutions, and will be profiled in the November/December issue of Staffing Industry Review magazine.
SIA emphasizes that the list is not a ranking but rather a contemporary look at the industry's most influential women. It is meant to shine the spotlight on the female leaders who are making a difference in the field of staffing. 
In past installments of the list, Epic was proud to have its various women leaders recognized for their contribution to the global talent marketplace. This year it was Carol Cheney, president of Epic Special Education Staffing, who received the spotlight.
Carol Cheney: Empowering Women through Transformative Leadership
Cheney was able to transform the business from a small regional operation in the Southwest into a national platform with clients and placements located nationwide. Pioneering a high-touch client and candidate-centric model allowed the company to expand its services to include behavioral and mental health, ultimately growing the business into one of the largest and fastest-growing verticals within Epic Staffing Group.
"Merging my clinical background as a speech-language pathologist with my passion for healthcare, staffing, and business operations has allowed me to cultivate a culture of compassion with tenacity," said Cheney. "Without compassion, determination lacks warmth, and without determination, compassion fails to achieve its full potential."
As a result of her transformative leadership, Epic Special Education Staffing has also been awarded the Clearly Rated Best of Staffing, Talent and Client, for two years in a row.
Epic Staffing Group: Celebrating Women in Power
Epic Staffing Group is proud of both Nicole Ethier and Carol Cheney for their amazing work and their role in empowering the women in their organizations. They are a true testament to the transformative power of leadership by example. They also serve as an inspiration to not just the women of the organization, but to every member looking to make a positive impact within the healthcare and life sciences staffing industry.